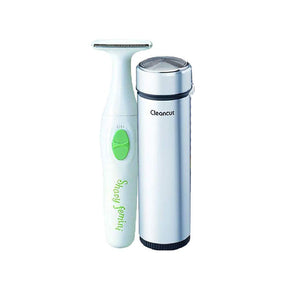 ES412 Cleancut Personal Electric Foil Shaver/Electric Razor, PS335 Body Trimmer - Cleancut Value Combo
Begin with the PS335
Begin your experience with the PS335 T-Shape Personal Trimmer. The Ultra Fine Comb Style Cutting Head cuts hair amazingly close to the skin without pulling, pinching or nicks. The Cleancut PS-335 can be used for fancy design work if you have an artsy-crafty bent. Designed as a body shaver, it works wonderfully on bikini lines, underarm hair, leg or arm hair, beards, mustaches, pubic area.
Follow up with the ES412
Follow up your trimming with the model ES412 Cleancut Personal Shaver. It has the distinction of being the first, and still best, personal/pubic shaver on the market. The Cleancut Personal Shaver has been made by the same manufacturer for many years (decades) and is still made in Japan, where quality and workmanship are considered high art.